Madame Pele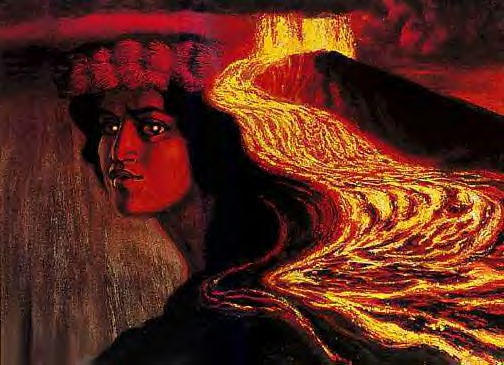 PELE, Goddess of Hawaii's Volcanoes
Artist: Herb Kawainui Kane
"She is Pele-honua-mea, Pele of the Sacred Land. She is Pele-'ai'houna, Pele the eater of land, when she devours the land with her flames.
She who rules the volcanoes of Hawai'i, and Mankind has no power to resist her. When Pele is heard from, her word is the final word."
PELE: Goddess of Hawai'i's Volcanoes by Herb Kawainui Kane
Themes: Unity; Tradition; Protection; Creativity; Change
Symbols: Fire; Red-colored Items
About Pele: In Hawaii, Pele's fires develop and redevelop the islands, through volcanic activity. It is this creative force that comes into our lives today, cleansing, transforming, and rebuilding, augmented by Summer's fiery energy. According to local legend, it is unwise to take any souvenir from Pele's Mountain without asking or leaving a gift lest bad luck follow you everywhere. She is zealously protective of her lands and her children. Traditional offerings include coins, strawberries, hair, sugarcane, flowers, tobacco, brandy, and silk.
From 365 Goddess by Patricia Telesco
Myth of Pele
It is said that Pele has not always resided in Hawaii. She is said to have been born in the ancient homeland of Haumea. Some say she wanted to travel, others state that she had been forced out by a great flood. It is also rumored that her elder sister Na-mako-o-Kaha'i, Goddess of sea and water, outraged at Pele for seducing her husband and pursued Pele to Hawaii.
"In the form of a great shark her elder brother Ka-moho-ali'I, the custodian of the Water of Life, guided the canoe northward. Some of her brothers and sisters sailed with her. Their first landfall was in the northern islands of the Hawaiian archipelago."
Every crater Pele dug with her stick was flooded out by her elder sister. It was believed that water was more powerful than fire. A hill named Ka-iwi-o-Pele (the bones of Pele) stands at the spot that the battle of the elements is said to take place. The site is believed to be her mortal remains.

Artist: Herb

Kawainui

Kane
Collection of William and

Kahala

-Ann

Trask

Gibson.
Photomural at the Thomas A.

Jagger

Museum, Hawaii Volcanoes National Park
"With the death of her mortal self her spirit was freed and elevated to godly status. This event, having taken place in the Hawaiian Islands, made her a goddess native to these islands. Her spirit took flight to the island of Hawaii where she found a permanent home on Mauna Loa, Earth's largest mountain"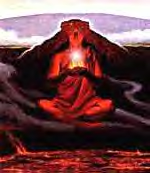 Artist: Herb

Kawainui

Kane
PELE HONUA MEA

(Pele of the Sacred Earth)
Pele's favorite sibling was her little sister Hi'laka, spirit of the dance. It is said that she was born in the homeland, Haumea, in the form of an egg and carried by Pele under her arm on an ocean voyage to Hawaii.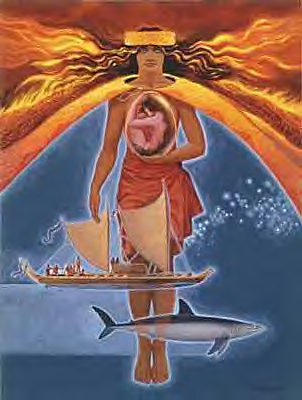 artist
: Herb

Kawainui

Kane


PELE'S VOYAGE TO
HAWAI'I
From Tahiti comes the woman, Pele,
From the land of Bora Bora,
From the rising mist of Ka'ne, dawn swelling in the sky,
From the clouds blazing over Tahiti.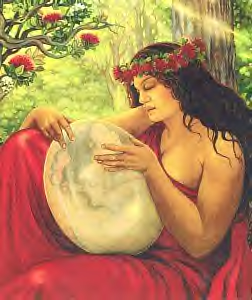 The volcano goddess Pele began her journey to the the Big Island of Hawai'i entrusted by her mother to take her baby sister with her. Her sister, Hi'iaka, was born inside an egg and carried in Pele's pareu for the long journey. At long last Pele came home to Kilauea, and in the beautiful 'ohi'a forest, Pele nurtured Hi'iaka until she hatched. Pele & Hi'iaka, an original oil painting by Linda Rowell Stevens
Among Pele's other siblings are Laka, Goddess of fertility and like Pele, a patroness of the dance. Laka also could appear as Kapo, a goddess of sorcery and dark powers and a shapeshifter at will. Also a mortal sister, Kaohelo, whom at her death, was transformed into a shrub that flourishes in the volcano region producing edible red berries.
Her brothers include Kane-hekili, spirit of the thunder; Ka-poho-i-Kahi-ola, spirit of the rain of fire; and Ke-o-ahi-Kama-Kaua. The brother most sacred to her is Ka-moho-ali'i. He could appear as a man with tattooed black hands or as a shark. He resides in a deep pit at the eastern rim of the world where the sun rises. Evidence of Pele's respect for him, her volcanic steam never touches his crater.
Legends of Madame Pele
It is said that she comes to us in many forms. You could see her in the form of a beautiful young woman, flowing crimson dress with the blackest of hair. Others say to have seen her as an old woman. Many encounters with Pele have been seeing her hitchhiking on the side of a road, asking for cigarettes, seeing who respects her requests and who does not. Others mention seeing her figure accompanied by a white dog. This is said to be a sign of warning, a sign that an eruption isn't far behind!
Another myth about Madame is to never take a piece of her land for a souvenir. Bad luck is said to follow you from the moment that you leave with it! Although the myth is said to be a story make up years ago, hundred of rocks are sent back to the islands every year with a note pleading to please put the rocks or sand back on the island.
"…the staff at Hawai'i Volcanoes National Park doesn't want another story written about lava rocks. They say that each article generates even more returns of lava rocks to the park. Norrie Judd, one of the park's rangers, receives about five packages a day from visitors wanting to return something they took from the island. A majority of the items sent back are lava rocks, but sand, coral, figurines, and jewelry made out of lava are also common.
"People sent them back for a reason. They have very sad stories," she says "Their house was broken into, they broke their leg, somebody died. Then they hear about this curse of taking things off the island and they send it back with their humble apology in hopes that the curse is broken."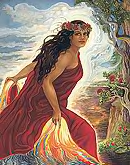 Pele is the goddess of the volcano. Her nature is complex, being the embodiment of both creator and destroyer. Her expression conveys her glory of power and grace. In 2003, this original 48" x 60" oil painting was honored as one of the 13 finalists chosen from over 140 paintings entered in Hawai'i Volcanoes National Park's competition for a painting of the volcano goddess. Linda Rowell Stevens' Pele is available as a 28" x 35" signed and numbered limited edition giclée print.
A limited edition sculpture by
Herb Kawainui Kane
"Pele Dreaming" is the first sculptural image of the goddess Pele created by Hawaiian artist Herb Kawainui Kane. It is a life-size bas-relief sculpture designed in 1989 for limited replication in an edition of 500. The sculpture is approximately 34" in diameter and 4" in depth. The subject is Pele, the personification of volcanic majesty, interpreted as a sleeping woman, her hair being interpreted as pahoehoe lava, against a background of flame. A single flame is rising from her hand.
Goddess Madame Pele
With her fiery passion
She creates the land
Ever changing her home
On the sacred sand.

Protecting her islands
that are precious to her.
To take any of it
You are sure to get burned.

Bad luck would surely follow you
From her beautiful sacred ground,
Leave a gift behind for her
To keep your luck sound.
Mauna Loa
, the mountain
She calls home
High enough for her
To never feel alone.

Her children she watches over
Every single one,
They live upon her land
Knowing she's not done.

Madame Pele they call her.
She comes in many ways
A beautiful young woman
Or an old lady with gray.

They see her with her white dog
They say that is a sign
That an eruption filled with fury
Isn't far behind.

With a snap of her fingers
Her fire she makes
It boils down the mountain
Sealing the path's fate.

Her temper is feared and respected
Her beauty a magnificent sight.
Her land and children she keeps protected
Forever through the day and night.

By
Amaris Dracena
Resources Used:
Books
1. Pele: Goddess of Hawai'i's Volcanoes by Herb Kawainui Kane
2. Madame Pele: True Encounters With Hawai'i's Fire Goddess, a collection by Rick Carroll
3. 365 Goddess by Patricia Telesco
Websites
1. A display of paintings that chronicle the history of Hawaii and Polynesia. Prints and books for sale on-line. http://hawaiiantrading.com/herb-kane/
2. Pele, Goddess of Hawai'i's Volcanoes: http://peledreaming.com/about-pele.html
3. Volcano Art Center, on the Big Island of Hawai'i http://www.volcanoartcenter.org/


Copyright Statement
This page is the intellectual and creative property of Amaris Dracena

April 2005
Return