Course and Internship Reviews
By Our Priestesses
.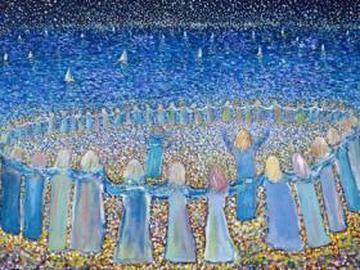 Course and Internship Review




Freya, High Priestess,

Sisters of the Burning Branch, Sisterhood of the Silver Star, BC

Thinking about how to begin writing this short review, the first thing that came to my mind was the association of the three levels with the Maiden,Mother and Crone concepts.

Level I conveys the curiosity, the "taste" for adventure, and excitement of putting down foot for the first time on a chosen path.
Level I begins to stir up the emotions and the power within by bringing first an awareness of women's herstory and inducing a sense of mindfulness not only to our surroundings but also to our thoughts and actions.

Level II takes the mindfulness and knowledge within. It's like a journey deeper into the soul and psyche. The intense work with the tarot and and further studies into women's mysteries has brought me so close to the Goddess, at a level of depth, which I could not have ever imagined before.

I think that Level II provided a turning-point; a new level of maturity in thought and spiritual growth, as well as an understanding that the journey has only just began.

Level III conveys a calmness and maturity which I can only compare to the insightful teachings of the Crone. It's the journey within completely, and it is in this level that the dark Goddess within asks for the true understanding of Her. The intense trance work has "pushed some buttons" at times but this made the learning experience even more significant. And to me there is no going back. It's at this level where the choice is given to turn knowledge into wisdom.

My Internship (Four Weeks)

The best way to begin describing the experiences drawn from my internship is to start with the conclusion of what I have come to see clearly; teaching is the place at which learning for the teacher just begins.

This internship was a great place for me to be. Not only was I allowed to share with students what I had learned,but more so, I had the privilege of sharing my feelings and passion of my chosen subject and it was wonderful to see how much enthusiasm all the sisters applied to this course.

I came to see, firsthand, just how many talented women belong to this school. Some of the replies to the lessons really touched me deeply; the ways in which the lessons had been replied to clearly came from the hearts of the sisters, and their ways of expression was deep and well thought out.

I don't think there is anything more rewarding than looking at a student's serious efforts to learn, and a teacher's serious and true desire to share. Learning is work, so is teaching, but is the love, passion and sincerity, which makes both- learning and teaching - bliss.

The experience of my internship affirmed the path I've chosen to walk.

By Freya, High Priestess, Sisters of the Burning Branch 2003

---
Course and Internship Review




Rhianna, High Priestess,

Sisters of the Burning Branch, Sisterhood of the Silver Star, TX



The lessons that I learned while going through the White Moon teachings were intense, to say the least. It required a lot of soul searching, tearing down the ideas that have resided in my consciousness and creating new ones that empower and enrich my life. It was a profound experience and one that enabled me to heal my soul, enabled me to connect with the Goddess in a way that I never thought possible and enabled me to meet and know some true goddesses here in this world. I am truly a different person now than when I started these lessons a year and a half ago and that is a good thing. That person was lost, angry and didn't know what to do to fix that. This person, this goddess, knows where she's going, what she's doing and loves.

.

My internship allowed me the chance to test my wings and teach. Developing the course really made me think and I have a greater appreciation (if that's possible) for those that make it look so effortless (Granny!). Reading the responses from the sisters really made me realize how insightful these women are and appreciate how much thought they put into their lessons. It was a tremendous opportunity and quite a humbling experience. It did help me realize the joy in teaching. I learned a lot from the sisters that took my course.


By Rhianna, High Priestess, Sisters of the Burning Branch 2004
---
Course Review




Ezevia Rose

, High Priestess, Sisters of the Burning Branch,Sisterhood of the Silver Star, Circle of the Silver Hive , RI

Oh Granny Moon, I have so enjoyed working here with you on each and every level, the final projects taught me so much about myself each and every time. I found our relationship to have value and compassion. I knew if I needed to ask anything that I could with full trust. You have taught me how to reach for the confidence inside of myself. To know I am worth more as a woman than I am lead to believe in today's world. Having you as part of my lessons and life has been magical. I am proud of all that I have learned and whom I have become as a result of all my dedication to myself and you're your course.
.
I came upon the Sisters of the Burning Branch in a very peculiar way, as an herbal student I found Granny Moon's posting on an herbal forum I had been working on. She contacted me to share some information. When I saw the link for Goddess School I was intrigued and signed up almost immediately. I am sure it was karmic intervention. I found myself immersed on a path I felt was deep inside me. The reading material was saturated with history and ritual, yet I found that the lessons were written so the material became easily accessible. Each week I dedicated a time for myself to read and write my lessons. I had a plan, a goal and set my course.
.
I learned that the Goddess is in all of us, that we came from a matriarchal society where women were nurturers, where peace was genuine and children were taught self-worth. I feel that each of us needs to comprehend and understand how truly important we are as individuals on this Mother Earth and working with the Sisters of the Burning Branch helped strengthen my feelings and my work in this area of my life. Society has taught us to turn ourselves away from the Mother. Here I learned how to return.

I would strongly recommend this course and the Dedication of Granny Moon to any woman who seeks a path of self worth.

By Ezevia Rose, High Priestess, Sisters of the Burning Branch 2005

---
Course and Internship Review




Gaiathena, High Priestess

, Sisters of the Burning Branch, Sisterhood of the Silver Star, Circle of the Silver Hive, VA

My experiences…where to begin. Well, I think that I should begin with finding the school and after much hesitation and nagging by my friends I joined. I was very apprehensive and did not know if I had made a good decision, and then I met you Granny. It felt like I had known you before and I was instantly at ease and happy that I had found you.

I began my lessons in Level 1, and they were opening places in me that I had closed off and chose to ignore. As I progressed in the level, I come to accept some of those places and feelings that I had closed off and began to see them in a different light. Level 1 is a great level to open doors so to speak.

Level 2 was much deeper, not only had I opened those doors in level 1, I now had to go through them. The tarot of course is a subject that I am not very strong in, but I now have a greater understanding and fully appreciate those who are very good at it. Level 2 is a level to contemplate not only yourself, but the Goddess and who and what she really is.

Level 3 was fun. I so enjoyed the journeying; not to say they were all pleasant, but they were all very meaningful. Through the journey with the tarot cards, I was able to complete feelings and come to different perspectives on whom and what I really am. I am able to look within first to find a strong woman instead of searching for one. I have found level 3 to be the completion and the beginning. I know that I can go back and look at myself at any time, forgive myself, and most importantly love myself.

My internship was a blast! I loved every one of the sisters who participated and I am so very grateful. I was gifted a far bigger gift by each of them than I feel that I gave to them. I really enjoyed making the lessons, and seeing them learn and come to care about a subject that I love. : } I cannot wait to see what blessings and gifts level 4 brings to me. : }


By Gaiathena, High Priestess, Sisters of the Burning Branch 2006

---
Course Review
Anyia Leanaun Sidhe, High Priestess, Sisters of the Burning Branch, Sisterhood of the Silver Star, Circle of the Silver Hive, AL
I have thoroughly enjoyed working with Granny and the rest of the priestesses. I loved all the camaraderie on the list as well. The first time I read through the first lesson and then the Once and Future Goddess assignment, I knew that was onto something wonderful.
Granny, you are an inspiration to anyone wishing to further their spiritual path. You are a gifted teacher and a wonderful friend. I hate that this leg of the journey has ended. I am planning on taking the High Priestess class as soon as I can save the money. My coven mates have expressed how I have changed since being in this study.
I have enjoyed the Level 3 just like I did the last two levels. I had some trouble with the Moon charts, but with Granny's patience and guidance, I think I did okay. All of the books were interesting, and I couldn't wait to receive my next lesson…just like at the beginning. I did have some dry moments, but they didn't last long. All of the exercises were well thought out and thought provoking. I will (and have) recommended this course to many people. I am looking forward to my internship with gusto. Rock On!!
By Anyia Leanaun Sidhe, High Priestess, Sisters of the Burning Branch 2006
---
Course and Internship Review
Dame Niamh, High Priestess, Sisters of the Burning Branch, Sisterhood of the Silver Star, Circle of the Silver Hive , NY

My "Year and a day" lasted over 25 years!

If I look back to that time, I remember that religion had never made an impression on me, not my Catholic upbringing, not anything else I read independently. I felt that the stern sky-god 'up there' had nothing to do with me, and I had nothing to stay to him nor to his entire family. At a critical point in my life, someone gave me Starhawk's first edition of "The Spiral Dance." It cracked me open like a husk. I cried and cried, something I was not in the habit of doing, and I felt as raw as a clam out of its shell.

Working through that pain, I came to understand that the guiding hand on my shoulder that I had always hoped for had always been there. The Mother had always been there! I began to seriously read and study, and within ten years I had dedicated myself to the Goddess.

I don't remember how I happened upon SOTBB. I read the first introduction, and immediately knew that I had found a home, a school and a vocation. It's been more than a 'year and a day,' and I've learned so much! As Freya said, I went through the three stages; first,Level I, and getting to know GrannyMoon and my sisters, then Levels II and III. At last I came to the recognition of myself as a Crone, which is an excellent thing to be. I have no fear of the Wheel's turning; all that falls shall rise again.

Healing is my Path. My grandfather and mother could stop bleeding with their hands; I can do the same. I am a Reiki Master and expect to use my hands for healing. I also read tarot and look forward to learning the Runes, all in the pursuit of finding ways to heal where it is needed.

Working on my internship, I asked a question that it seems has been neglected in published writing: what is it like to be a Witch in our times? I look forward to sharing the results of that course with my Sisters.

The only thing that I miss is the garden I had when I lived in the suburbs, which I deplored. One never knows: I might move closer to the Earth!

Blessings,
Niamh

By Dame Niamh, High Priestess, Sisters of the Burning Branch 2006
Dame Niahm

Our Dear Sister Passed Over in 2008. She is with us in our hearts and in the heartbeat of our Mother! Blessed Be Dear One!
---
Course Review


Gwendolyn LaFae, High Priestess,

Sisters of the Burning Branch, Sisterhood of the Silver Star, Circle of the Silver Hive, Northern VA

I remember when I first found GrannyMoon's Goddess School. I signed up immediately after reading the part about learning to empower ourselves as women through the Goddess. I do feel more empowered in all areas of my life, and I attribute this not only to the lessons, exercises and projects, but to the sisters I have found here. I feel the need to emphasize three of the many tools I received here because I attribute them to my success: the positive affirmations, mindfulness, and the connection to the Goddess. These tools have remained with me and have assited my positive transformation. I would highly recommend this school to all women, no matter where they come from or what they believe. I believe in this school because I got exactly what I expected, and then some!

By Gwendolyn LaFae, High Priestess, Sisters of the Burning Branch, 2006

---
Varia )O( Moon, High Priestess, Sisters of the Burning Branch, Sisterhood of the Silver Star, Circle of the Silver Hive, NC

My time at Goddess School has been more than I could have ever asked for. It has affirmed who I hoped I was deep inside and allowed that person to wake
up, stand up and shine her light for the world to see. Goddess school shows you who you really are as a person and gives you the confidence and tools to
live by your word, it fill you up to overflowing and holds you tight when you are down.

I have seen all different women come and go from Goddess school but the Scared Space never changes, it is always safe and loving, tolerant and
caring. Goddess school is home!! I highly recommend Goddess School to any woman of any faith looking to know the woman inside herself.

May the Goddess Bless you and yours!

Love and hugs,
Varia )O( 2006

By Varia )O( Moon, Priestess, Sisters of the Burning Branch, 2008
---
Reverend Modron Whiteraven, High Priestess, Sisters of the Burning Branch, Sisterhood of the Silver Star, Circle of the Silver Hive GA

Ah! If I were to go anywhere in 3d to formalize my walk as a priestess, it would have to be here at Goddess School. The courses were a powerful review and confirmation for me. The treatment, understanding, and caring I received during my time here, was at a very high level of quality. The course are well written and professional. I am honored to have participated here at this place, with infinite patience from the teachers. I do intend to finish level 4 at sometime in the future. I wouldn't go anywhere else, I am glad I found this sisterhood, at the time that I did.

Many blessings, Modron
---
Artesia, Priestess, Sisters of the Burning Branch, Sisterhood of the Silver Star

, MI




.




Course Review




I had just completed an intensive one year Bible study trying to make sure that I really knew what Christianity was before turning away to search for something else. I missed the comeradie of women's Bible groups and needed to have a sense of connection while exploring my spiritual beliefs further.





In the beginning, I felt a tremendous amount of confusion and guilt from my upbringing. Level one helped me to work through my own hurts and bad habits. I put aside anti-nurturing behavior and learned to love and accept myself as I am right now (not after I got a degree, a cleaner house and lost twenty pounds). It also allowed me to carve out time for myself and to help me value myself as an important individual. I was lucky to be in level one when there were open students in levels two and three who posted their lessons and let me see that all of us have issues to work on and that change is possible.





Level two was difficult to work through, but so worth it. It tempered me to continue working for what I wanted even when it wasn't fun. It taught me the importance of finding daily time to work on me. It taught me how to read tarot when I had NO previous experience and that really knowing the cards requires dedication and hard work. I was so proud of myself when I completed the level and I really learned that I didn't need to work in anyone's time frame but my own.





Level three allowed me feel comfortable with myself as a powerful woman. I can own my power, be proud of it, and know how to use to benefit those in need.



I feel like level one is the experience of a student acknowledging that she wants to make the journey. Level two is realizing that you've been in a pidgeon hole and that you need to make a bigger space for yourself- so you carve it out, sometimes with a chain saw, sometimes with a spoon. Level three is the quiet stillness that allows you to blossom and fill that new space with growth, love, change and vision.



By Artesia, Priestess, Sisters of the Burning Branch,

Sisterhood of the Silver Star

2008



---
LadyHawke, .

High Priestess

, Sisters of the Burning Branch, Sisterhood of the Silver Star, Circle of the Silver Hive ME





First, what I learned so far from the Burning Branch learning is amazing. It will admit it was intense. The lessons were more work than any of either my PhD courses or the ones in my masters! But learn I did. I loved every minute of it. I bared my soul at times too. It was a real journey of learning not only about the course work, the Goddess, and all the other things, but about myself and where I fit in the plans Goddess has for me. I found that as I progressed, my Tarot readings became more and more accurate. And my dreams have become more and more lucid and pointing to very important messages to me from the Divine. I have made friends. I have changed my outlook on many things, including life itself. There was a time when I would drive down the road, railing at all the other drivers just as they did at me. Now I know the power of my curses and don't do that anymore. I have learned to relax in my driving and not care and even convey well wishes to other drivers, though I admit I still do get frustrated from time to time. I cannot wait to get going (I admit I am already doing the first lesson of level four and WOW, incredible insights into my faith here) on level four more.





By

HPS LadyHawke

, .

High

Priestess

, Sisters of the Burning Branch, Sisterhood of the Silver Star, Circle of the Silver Hive 2008
---
Firefly, Priestess, Sisters of the Burning Branch, Sisterhood of the Silver Star 2009, VA


When I started Goddess School, I had been searching for something that had been missing in my life for a very long time. Level I awakened in me a sense that I really did belong to something bigger than the here and now. It reawakened my sense of femininity, something I seemed to have set aside after my hysterectomy.

Level II taught me so much about myself and my sisters. The tarot readings each had a specific message for me and aided in my growth. Losing old resentments, and gaining new perspective are the rewards I claimed from this experience.

The journeys delved deep into my soul and let me see myself as I really am.

I come away from this course, enlightened, happy with myself, and content that I am in the right place for me at this time of my life.

The internship was awesome. I learned far more than my students did. I really enjoyed that adventure.

Now, I'm ready for the next great adventure.


By Firefly, Priestess, , Sisters of the Burning Branch, Sisterhood of the Silver Star 2009
---
Chenoa, Priestess, Sisters of the Burning Branch, Sisterhood of the Silver Star, Circle of the Silver Hive, FL

When I found Goddess School, I had what I thought was a strange interest that I would indulge and soon it would pass. Instead, I came to know it as my calling and I had finally found guidance, acceptance, and true friendship from my sisters here at Goddess School.

In level 1, I was given a foundation to grow and create a positive environment around me. I quickly noticed I no longer had self-doubt and I felt such love for myself that I never had before. I learned about Goddess and the love she has for me. In level 2, I enjoyed learning about the moon and the affects she has on my life. The knowledge I received will be beneficial to me for the rest of my life. In level 3, my world opened up. Working with my dreams gave me guidance I never knew was so easily accessable to me. I learned so much about myself. I also learned to listen to the Spirit totems that guide me.

I am so excited to be part of this world and I look forward to the future, whatever it may bring.

By Chenoa, Priestess, Sisters of the Burning Branch, Sisterhood of the Silver Star, Circle of the Silver Hive, FL 2009

---
Return